Editor's Pick
Autoblow A.I.

Artificial Intelligence

100% Silicone Sleeves

Sleeves Can Be Changed

Great Beginner's Toy

Hand Free

Easy To Clean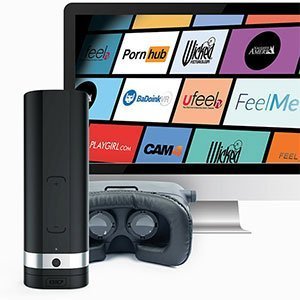 Kiiroo Onyx 2

Hands Free

USB Rechargeable

Sliding Scale Of Speed

Sleeves can be changed

Elegant And Discreet

Easy To Clean
Autoblow 2+ XT

100% Hands Free

No Batteries Needed

Industrial Strength Motor

Interchangeable Sleeves

Realistic Artificial Skin Material

Sleeves Are Easy To Clean
The Mangasm Alpha is the perfect prostate stimulator – soft enough to work inside of you, but still hard enough to perfectly stimulate and work your prostate.
The Mangasm Alpha is our most popular prostate stimulator, and has been specially designed for beginners with ass play – those of us who want to experience the pleasure a prostate orgasm can provide, but are a little unsure about how to start, and where exactly to begin. This toy has been perfectly designed to work with the design and the way your body works – it's been designed to easily slide in and out, and puts a small amount of pressure on your prostate – just enough to put you over the edge of pleasure, but also not so much that it becomes painful for you. Unlike a lot of other prostate stimulating toys, the Mangasm Alpha is made from a very soft, and flexible material that is amazing for stimulating your prostate. It's also extremely comfortable to insert inside you, but is still hard enough to stimulate you in all of the right ways.
The Mangasm Alpha has a small, very flexible tab that tickles and plays with your perineum, which is filled with thousands of tiny nerve endings. It puts just enough pressure on your prostate for you to experience a totally mind-blowing male G-Spot orgasm. The actual prostate massager can be removed when you pull out the ring – this makes it slightly easier to use. Best of all, you combine your prostate massage with a male masturbator on your penis, resulting in double the pleasure.
Material:
Realism:
Easiness of cleaning:
Price:
Best of all? When you're ready or looking to switch it up, you can remove the silicone, bead-filled cover, to jerk off with as well. It's a silicone sleeve from inside to the toy, which you can remove at anytime. The sleeve is filled with layers of massaging beads, even more than any of our Autoblow toys, which are texturized to gently massage your cock and really increases the sensation you feel as you jerk away. This silicone layer allows you to plunge your cock deep into the toy, but can also be removed for pleasure on it's own. Fill it up with some lube, and you're good to go with the silicone sleeve – it feels completely amazing, and much better than just using your hand when you don't feel like using the Autoblow Pico.
Best of all, the Mangasm one is both flexible and moldable, making this truly the ultimate toy for beginners, as it helps to flex and fit into your ass without forcing anything. As well, it's at a great value, so you're not paying a ton of money, just in case you find our that you're not a big fan of backdoor fun.
Satisfy your curiosity with this dildo designed, perfectly shaped and designed Mangasm toy for anybody who's looking to get into a little bit of butt fun. Make sure to lube up beforehand for the best results! The Mangasm One is simply the absolute best way to explore ass fun – start small, and then work your way up. Absolutely everyone from the most curious newbies to seasoned experts loves this smooth, sexy toy.
When it comes to caring for the Mangasm One, remember to use plenty of water-based lube, or special anal lube, and remember to use a condom if you want to really keep your new toy in immaculate condition. Give yourself plenty of time the first time you experiment with your soon-to-be new favorite – anal play. For first-timers, it may be a better idea to use it on your own first, rather than with a partner. This way, you can become much more comfortable with ass play, and you'll love it.
The Mangasm One is the ultimate ass toy for beginners – you'll be sure to love it!
Customers Opinion/Feedbacks
"This was my first ass toy – I think it honestly should be smaller for someone who's never experienced ass play." – Jim I., Juneau, AL
"I think this is ideal for someone's first anal toy. My girlfriend bought it for me and I haven't looked back." – Thomas M., Oklahoma City, OK
"I honestly thought this toy was a little too big at first, but the prostate orgasm was totally worth it." – Matthew G., Annapolis, MD