Editor's Pick
Autoblow A.I.

Artificial Intelligence

100% Silicone Sleeves

Sleeves Can Be Changed

Great Beginner's Toy

Hand Free

Easy To Clean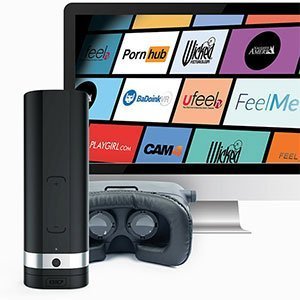 Kiiroo Onyx 2

Hands Free

USB Rechargeable

Sliding Scale Of Speed

Sleeves can be changed

Elegant And Discreet

Easy To Clean
Autoblow 2+ XT

100% Hands Free

No Batteries Needed

Industrial Strength Motor

Interchangeable Sleeves

Realistic Artificial Skin Material

Sleeves Are Easy To Clean
The Pink Lady Super Ribbed Fleshlight has the looks and tight feel of the original Fleshlight, but with an added twist – massaging ribbing detail inside. Filled with miniature, engraved ribs, this toy will completely blow your mind with these texturized details that thoroughly stroke and massage your cock, resulting in incredible pleasure of the likes you've never before experienced!
With it's pretty pink exterior, looking just like a splayed open pussy, the 72 miniature ribs inside the Fleshlight will work up and down your penis as you jerk off, resulting in a whole lot of mind-blowing sensation – the same way a ribbed condom would feel, except a whole lot more efficient and sensual. This tiny detail and tweak has resulted in a whole lot of immense, incredible sensation and pleasure – join the thousands of men who prefer it ribbed! The inside of this toy has been specially designed to massage and work the most sensitive parts of your penis, particularly the parts of your shaft that feel the most sensation, as well as the head. It applies both extra pressure, and a lot of extra attention to these sensitive parts of the penis. The inside of this Fleshlight works to really grip down on your penis, sensually squeezing as you work up and down, in and out of the toy. The inner chambers and walls of this male masturbator have been designed to leave no inch of your shaft untouched, resulting in total pleasure and sensations throughout your entire body.
When you're looking to really increase the sensation the Pink Lady Super Ribbed Fleshlight provides, pairing this male masturbator with lube really changes the entire experience. When you pair this toy with warming lube, it's not only texturized, as well as soft and tight like a real woman's vagina or mouth, but is also now tantalizingly warm and wet, and a surefire way to get you off. The toy is also amazing when paired with a Mangasm toy for double the feeling – this is one purchase you're sure to love.
Go ahead and finish in your Fleshlight – regular cleaning and maintenance is no problem. When you're ready to clean out the toy, it's super easy to clean out the Pink Lady Super Ribbed – simply add some soapy, warm water, and flush it out. It really is that easy to clean out your toy, and have it around for years to come. Remember to wash and care for your toy on a regular basis, to maintain cleanliness, as well as the high quality of the toy.
Material:
Realism:
Easiness of cleaning:
Price:
Best of all, the Fleshlight is great for solo fun, using with a partner, or even as a way to train yourself to last longer in the sack – making this one buy that you partner won't be rolling her eyes at!
When you're looking to get off, release some stress and want to experience new heights of incredible pleasure, look no further than the Pink Lady Super Ribbed Fleshlight – it's a completely new twist on an old favorite, and is sure to knock your socks off in an entirely new way.
Customers Opinion/Feedbacks
"I didn't notice the ribbing so much, but I thought this felt a million times better than any other male toy I've used." – Justin B., Bismarck, ND
"The ribbing in this toy made all the difference. I came so fast the first time I used it." – Lester K., Des Moines, IA
"I used this for the first time during phone sex with my girlfriend, who was travelling. It definitely came close to the real thing!" – Jake, Honolulu, Hawaii