Editor's Pick
Autoblow A.I.

Artificial Intelligence

100% Silicone Sleeves

Sleeves Can Be Changed

Great Beginner's Toy

Hand Free

Easy To Clean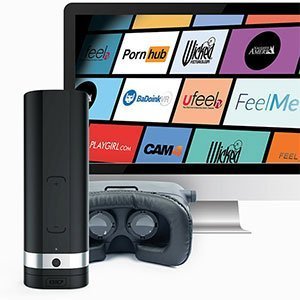 Kiiroo Onyx 2

Hands Free

USB Rechargeable

Sliding Scale Of Speed

Sleeves can be changed

Elegant And Discreet

Easy To Clean
Autoblow 2+ XT

100% Hands Free

No Batteries Needed

Industrial Strength Motor

Interchangeable Sleeves

Realistic Artificial Skin Material

Sleeves Are Easy To Clean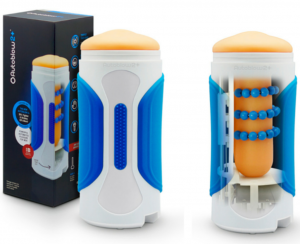 Getting a blowjob has always been a pleasure to men. And now, with these enticing assortments of blowjob masturbators to choose from, you can not only enjoy realistic blowjob experience but also get it anytime, anywhere. These blowjob masturbators are made to imitate the sensation of getting a blow job from a woman. With the life-like mouth shaped opening, every man can fantasize of getting a blowjob from the woman of their dreams. What more can a man ask for?
Here are the most popular and most wanted blowjob masturbators for you to choose from:
Sue Johanson's super head honcho – masturbator
Sue Johanson , the host of Talk Sex with Sue Johanson, has created one of the most wanted blowjob masturbator in the market today. It is made with transparent silicone, stretchable to accommodate big shafts, and inside is 3 nubbed tight chambers for the desired suction sensation to a man's penis. Its base has a non slip grip feature and best of all, can be turned inside out for maintenance and only needs warm water and a toy cleaner, no return pleasures needed. With this blowjob masturbator – it's all fun time for you.
Fleshlight mouth – blow job imitator
Another remarkable sex toy for men to enjoy is the Fleshlight mouth. From the same creators of Fleshlight masturbator, comes this sex toy that has a realistic mouth shaped sleeve as an opening for a blowjob experience to a man's shaft. It closely imitates the seductive feeling of getting a blowjob that makes personal arousal so much more enjoyable and exciting.
It is made from Superskin material to give you the same sensation of a woman's mouth and made from Latex free, non allergenic material for your utmost convenience and satisfaction. The best part about this sex toy is its ability to preserve the heat, especially when warmed first with water to give you the most realistic blowjob experience you ever had.
Mouth Palm Pal – masturbator
Another popular masturbator is the Mouth palm pal created by Doc Johnson. This seductive sex toy is 5 inch long and molded for easy and firm grip as you satisfy your sexual desires. It is made with UR3 material to give you the most realistic blowjob experience from a woman. It gives you the control the pressure and suction to your shaft with its contoured shape. It's small size is optimized for your convenience yet it is very stretchable to accommodate cocks of different sizes.
Fleshlights Girls Jenna Haze Mouth – blow job imitator
One of the most popular blow job imitators is the Fleshlight girls Jenna Haze Mouth with its exact imitation of the mouth of Jenna Haze herself. Fantasizing of getting a blowjob from a sultry woman has never been this realistic. This beautiful sex toy is made of Superskin to imitate exactly the exciting stimulation of a real blowjob. It is very soft and stretchy so cocks of different size can enjoy a Janna Haze blow job anytime, anywhere, no matter how long and how fast you want it. Jenna Haze is now at your service.
A little Head – masturbator
This mini yet impressive blowjob masturbator mimics the skin color and a seductive mouth of a woman to cater on your wildest blow job dream scenario. It is made of PassionSkin to imitate the exact sensation you will get from a real blow job. With this handy sex toy, you will never get enough of the great simulation and orgasm you get in every use.
With these exciting blow job masturbators, you can have all the orgasm you want, easy maintenance, handy to bring anywhere and no mood check required to your partner.