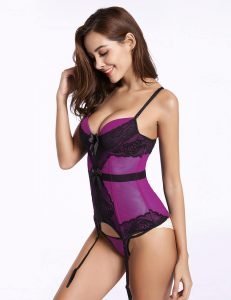 If you have a special night coming up and you want to celebrate this all-important occasion looking your sexiest then the answer to your prayers is simple: wear a corset.  We've even made things easier for you by listing down the best designs for corsets out there and all of which are guaranteed to give you a smokin' hot body when worn.
Reversible Corset Three-Piece Set from Dreamgirl
There are different ways you can wow your man. You can do it with something erotically sweet and romantic…or you can simply knock them dead with a killer set of lingerie like the three-piece set from Dreamgirl.
The corset comes with a reversible design, which means you'll have two designs to choose from. It's made of non-stretch, satin, and polyester, a combination that's sure to make the best of your figure. Tempting embroidery is stitched along the corset's bust line to draw attention where it's most needed. You won't have to say a word; the corset will do all the talking for you and your husband can simply gasp and gape.
The corset comes with all-important boning to make sure you have an hourglass figure with no extra fats whatsoever revealed. The back of the corset is laced up all the way to the top – you can ask your husband to undo your corset using this if you want him to die of pure sexual torture. But if you want to take things in your own hand, the front of the corset can be undone with a simple hook and eye clasp.
Included in the set as well are thigh-high stockings, a devilishly skimpy thong, and of course, detachable garter straps to drive your man crazy with desire.
If you're thinking of wearing this set, you might want to consider accessorizing it with elbow-high gloves to complete your look.
Skullduggery Corset with Matching G-String Panty from Shirley of Hollywood
Now, if you're going to play a little bit of S&M and you've been tasked to dominate and conquer, you can dress the part with this tough-and-sexy lingerie set from Shirley of Hollywood.
The skullduggery pattern used for the corset makes it clear that you mean business in the bedroom and that your husband has to follow all your commands if he doesn't want to get punished. Then again, it's the punishment that makes pleasure all the more delicious with S&M so maybe you should have a pleasure whip or feather tickler handy just in case.
The corset is made of cotton, which is a more forgiving material compared to other fabrics, and comes with boning, which you should always be thankful for. The corset also has a zippered front for easy access but again, the back is laced up with ribbon ties and which is useful if you want to torture your husband some more.
This set also includes garter straps (detachable) and a paired G-string panty.
Reversible Animal Corset with G-String Panty from Dreamgirl
If, on the other hand, you just want to give your husband the most exciting night of his life – and share the reins on who gets to be on top – then it's probably this corset ensemble from Dreamgirl that suits you best.
You can choose between passion red satin if you're in the mood to tease your husband with a glamorous seduction or a wild animal print if you want him to roar his pleasure while you purr in satisfaction.
Like all the best corsets, this one also comes with boning. It's also made of 100% polyester, which should make the set easier to clean. The garter belt straps that come with the set are entirely removable. Also included in the ensemble is a sexy pair of thigh-high stockings and a matching thong.
Unlike other corset designs, however, this proves to be a little unique by having everything laced up at the front while offering a row of hook-and-eye clasps at the back.
50th Anniversary Bunny Costume from Playboy
Then again, wearing a corset doesn't mean you always have to be in attack mode. Wouldn't it be nice if once in a while that you get to be attacked instead? Picture yourself as a cute, helpless, little bunny and being hunted down by a hungry predator (that's your husband by the way).
Be prepared for total and absolutely satisfying domination as you dress yourself like a Playboy girl with the iconic Bunny costume from the world's most famous adult magazine.
The 50th Anniversary set from Playboy comes with a corset that's designed with foam lined cups and underwire support to make your cleavage all the more…sumptuous. The corset is laced up with satin ribbons at the back and made entirely of stretch nylon, which ensures that every figure comes away perfect in this bunny ensemble.
Its matching boy-leg panties have the equally famous bunny tail that you should practice wriggling with some booty shaking. And to complete the look, you have a requisite pair of bunny ears, the ubiquitous neck tie, and buttoned cuffs for a touch of playful elegance.
Reversible Zip Front Closet from Shirley of Hollywood
One look at you in this sizzling number and your husband is sure to think that something wicked this way comes.
Choose between looking dangerously hot in black or smolderingly seductive in flaming red. The corset is made of polyester, which means washing would be a breeze. It's trimmed with a satin finish and the zip-up front has pretty button details while the back has criss-crossing stretchable back straps.
This corset is definitely like a classic set but with a twist that's sure to make your husband go mad for your body. It's something you can wear under your everyday clothes – or even your workplace or party outfit.
When the right time comes, you can surprise your husband by taking off your clothes slowly and giving him a 360-degree treat of your new and irresistible lingerie set.
Just remember: wear your lingerie with confidence and you'll always look great in it!