Editor's Pick
Autoblow A.I.

Artificial Intelligence

100% Silicone Sleeves

Sleeves Can Be Changed

Great Beginner's Toy

Hand Free

Easy To Clean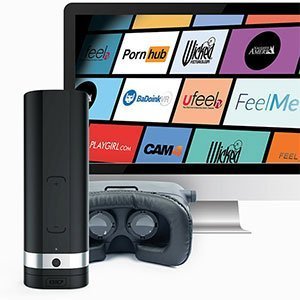 Kiiroo Onyx 2

Hands Free

USB Rechargeable

Sliding Scale Of Speed

Sleeves can be changed

Elegant And Discreet

Easy To Clean
Autoblow 2+ XT

100% Hands Free

No Batteries Needed

Industrial Strength Motor

Interchangeable Sleeves

Realistic Artificial Skin Material

Sleeves Are Easy To Clean
A pocket pussy is a term used for a specific type of sex toy designed for men to help them masturbate. Usually this toy is in some form of a sleeve but due to the growing popularity and the desire for some variation the male masturbator has expanded into almost its own industry. Companies are constantly trying to evolve this type of toy in order to meet the demands that men have, especially as men who use the product become more and more adjusted to the basic type. When it comes down to it these days pocket pussies are almost anything that a man can pick up, carry with him, and stick his penis into.
In fact the variations of the pocket pussy have become like a competition with bigger and better versions coming out. Some of the top brands in the industry of pocket pussies have really taken this originally very simple toy to new extremes. They all still have some similarities, such as the size of the inside of toy where the penis is inserted, and they all are created to increase pleasure for men, but after that the similarities are minimal among the most advanced pocket pussies available today.
Take for example the Tenga. This is a pocket pussy designed and manufactured in Japan. Unlike many of the other pocket pussies available, Tenga doesn't look like a sex toy. There's no resemblance to a human vagina anywhere and without being specifically told what it is most people won't know just from looking at it. Like most things that come out of Japan, the Tenga is incredibly technical with all different varieties with various features for every toy. It's considered one of the most advanced toys as far as pleasure and sensations go, and because of its popularity and effectiveness these toys don't come cheap.
While the Tenga has a high degree of popularity, many men enjoy pocket pussies for the way they portray human orifices and are more interested in the realism of a pocket pussy rather than just the way it feels. It's for that reason that Tenga is one of the only brands out there that focuses solely on sensations and tries to avoid making it look like a fake vagina, and why other brands sell as well if not better despite not being as "advanced." The Fleshlight is another brand that sells very well and again isn't cheap but its realism combined with its variations and portability makes it a top seller. Fleshlight toys dedicate themselves to not only be discreet when put away but also to making a durable, long lasting toy that has detailed designs replicating a vagina, mouth, or anus. The interiors of the various Fleshlight models also makes them popular because each texture provides a new and unique sensation for the user.
Unfortunately for men who want a sex toy for masturbating into the options are far as types of sex toys are limited to pocket pussies and fake vaginas. Still, with the huge selection available in the pocket pussy industry alone men are able to find toys that fulfill their needs and desires and usually without going broke.