Editor's Pick
Autoblow A.I.

Artificial Intelligence

100% Silicone Sleeves

Sleeves Can Be Changed

Great Beginner's Toy

Hand Free

Easy To Clean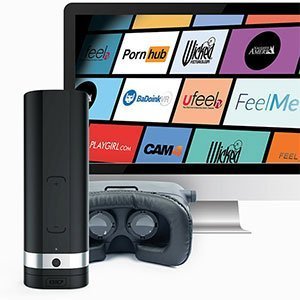 Kiiroo Onyx 2

Hands Free

USB Rechargeable

Sliding Scale Of Speed

Sleeves can be changed

Elegant And Discreet

Easy To Clean
Autoblow 2+ XT

100% Hands Free

No Batteries Needed

Industrial Strength Motor

Interchangeable Sleeves

Realistic Artificial Skin Material

Sleeves Are Easy To Clean
Preparing the body for anal sex can be done in different ways. Since, the anus doesn't stretch like the vagina, it needs to be eased open gradually. Some may choose to use a series of anal toys that vary in size; going from smallest to largest. There is one toy that can do the same thing….an inflatable butt plug.
A butt plug is a toy that's specifically designed for anal penetration. It's shaped like a Christmas tree and has a smooth, seamless surface. This anal toy is made with a flange to avoid it slipping into the anus. This could be painful and require medical attention.
Most people will buy multiple plugs and use then in graduating size order. An inflatable butt plug alleviates the need for multiple toys. It's attached to a hand held pump that allows the user to fill the toy with air. The more air pumped into it, the bigger the plug gets.
An inflatable butt plug is ideal for use during masturbation. It's hard for someone to give themselves anal pleasure. The air hose and hand pump make it easier. Instead of the usual sensation received from a plug that's simply inserted and left in place, the pump can be used to simulate a pulsating one.
Like other butt plugs, this toy is designed for gradually easing the anus open. It's also a great toy for couples to use together. One partner can control the pump and pleasure the other. They can share in the preparation process and build the trust that should be present in a relationship for anal sex.
This anal toy should also be used with extreme caution. Attention should be paid during the inflation process. If the toy is filled too much, not only can it be uncomfortable but it can also cause damage to the fragile rectal walls.
Anal toys are more than likely to come in contact with fecal matter at some point in time. Using a condom can reduce that chance of bacterial growth on the toy. If the toy is being share, it can also aid in preventing the passing of infection. Buying a toy with a non-porous surface can be helpful as well. The butt plug and hands should be thoroughly cleaned before and after each use. A non-porous surfaced toy will also aid in sanitation. It will allow the toy to withstand sterilization and chemical cleansers. Safe play should always be encouraged.
Preparing the anus for penetration is a process that may take some time. One should be patient when going through it. It is better to be fully prepared than to be uncomfortable or hurt during initial penetration with the real thing. Using a lubricant that desensitizes is a good idea. It'll produce a numbing effect that will dull the minor discomfort of initial penetration. There will be no pain, but there will be pressure. After initial penetration is achieved, it'll take time to ease the rest of the penis in. Patience is a virtue.