Editor's Pick
Autoblow A.I.

Artificial Intelligence

100% Silicone Sleeves

Sleeves Can Be Changed

Great Beginner's Toy

Hand Free

Easy To Clean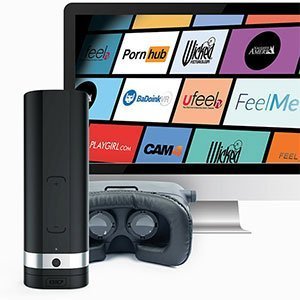 Kiiroo Onyx 2

Hands Free

USB Rechargeable

Sliding Scale Of Speed

Sleeves can be changed

Elegant And Discreet

Easy To Clean
Autoblow 2+ XT

100% Hands Free

No Batteries Needed

Industrial Strength Motor

Interchangeable Sleeves

Realistic Artificial Skin Material

Sleeves Are Easy To Clean
Technology has the power to make every part of our lives better, and that even includes sex and masturbation. We don't always think about the ways that modern technology can make our sex lives better, but it definitely can. A lot of people think that there's not a lot of "science" to sex, but the truth is that we now understand human bodies much better than we did in the past. This means that we now have the power to build male toys that can do unbelievable things and provide intense pleasure.
One interesting new type of men's sex toy that has come on the scene recently is the precursor to the sort of virtual sex games you see in sci-fi movies and stuff. These toys aim to recreate a sexual experience in amazing detail through the use of a high tech toy. The way that these toys is work is by syncing up with a particular porno movie and having the toy "mimic" the actions that are going on onscreen.
These toys feature internal reservoirs of lube and have motorized parts that can cause the toy to move or contract in different ways. So, for example, if there's a blowjob scene going on in the porno movie, the toy might shoot out some extra lube for additional wetness. Then if the movie went into an anal scene, the toy might tighten up a lot to simulate the tightness of anal sex. Similarly, the toy is synced up with the speed of the action in the scene, so as things get more intense they'll get more intense for you as well.
The problem with these types of male toys is that they're still so new that they're very expensive. The actual toy itself costs several hundred dollars, and then on top of that they expect you to pay for the videos that are synced up as well. What's even worse is that buying the videos isn't a one-time thing. You have to pay by the minute just to be able to use your toy!
Fortunately, not all of the cool new high tech toys have this problem. There's another toy known as the Wicked Lips that provides a lot of the same great features but with an overall lower price tag. While the Wicked Lips doesn't offer the ability to sync itself up with a porn movie, it does feature adjustable speeds that you can control with a handy remote. The experience may not be as unique, but it can be just as intense – and you're in total control. Plus, you don't have to pay by the minute to enjoy your Wicked Lips!