Editor's Pick
Autoblow A.I.

Artificial Intelligence

100% Silicone Sleeves

Sleeves Can Be Changed

Great Beginner's Toy

Hand Free

Easy To Clean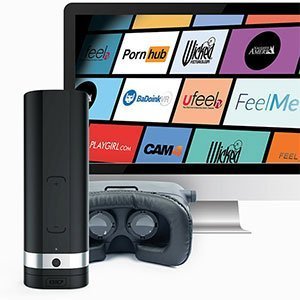 Kiiroo Onyx 2

Hands Free

USB Rechargeable

Sliding Scale Of Speed

Sleeves can be changed

Elegant And Discreet

Easy To Clean
Autoblow 2+ XT

100% Hands Free

No Batteries Needed

Industrial Strength Motor

Interchangeable Sleeves

Realistic Artificial Skin Material

Sleeves Are Easy To Clean
Most guys don't really understand the full breadth of the sex toy market for guys. A lot of people think that male toys are limited just to things like fake pussy toys, but there is a lot more to be had. If you're looking for a way to spice up your sex life or just your masturbation sessions, then you should look into try some sex toys for men. You'll be in for an amazingly good time!
While there is more to male toys than fake pussy toys, that doesn't mean that you should overlook these types of toys. Some guys look at a fake pussy toy and think, "What's the point?" The logic is that these toys aren't really that much different than just jerking off by hand. Comparing a good fake pussy to toy masturbation by hand is definitely selling these great male toys short.
For one thing, the fake skin used for these toys is much smoother than your hand would be, especially if you have more calloused hands. Using one of these toys feels a lot more like having actual sex, which makes it a lot more exciting than just jerking off the way you have been for years. Additionally, many male toys feature inner textures that are designed to stimulate your cock in ways that a woman's body simply couldn't match. It's not an exaggeration to say that these toys can be better than the real thing in some ways.
Another type of male toy that is becoming more popular in recent years is the prostate stimulator. These types of toys are still a bit much for many men, as they require anal penetration to enjoy them. However, any guy who has enjoyed having his prostate stimulated will tell you just how amazing the experience can be. It enhances your orgasms and it is even good for your prostate health. If you're interested in exploring the limits of male pleasure, this is the type of toy for you.
For many guys, the biggest problem with men's sex toys is that they just don't do enough. Most of these toys still require a good deal of effort to get anything out of them, whether it's stroking the toy over your penis or thrusting into it. There are some new toys that are changing that, such as the Wicked Lips.
The Wicked Lips is designed as a totally hands-free blowjob simulator machine that does all the work for you. It's as easy as lubing up, inserting, and turning the dial and you're off to a world of ecstasy. These toys take everything great about the previous generation of sex toys and bring it to the next level. Check it out at jerking-off.org.