Editor's Pick
Autoblow A.I.

Artificial Intelligence

100% Silicone Sleeves

Sleeves Can Be Changed

Great Beginner's Toy

Hand Free

Easy To Clean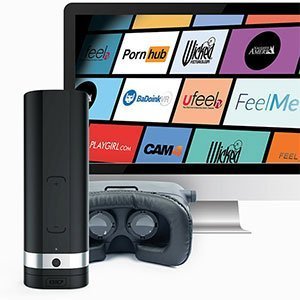 Kiiroo Onyx 2

Hands Free

USB Rechargeable

Sliding Scale Of Speed

Sleeves can be changed

Elegant And Discreet

Easy To Clean
Autoblow 2+ XT

100% Hands Free

No Batteries Needed

Industrial Strength Motor

Interchangeable Sleeves

Realistic Artificial Skin Material

Sleeves Are Easy To Clean
Often times, you'll find that there are a whole lot of male toys and male masturbators for larger penises, but not nearly enough for small penises and smaller male members. In fact, around 20% of men are only about 5 inches long, and 4 inches wide, if not only a little more. This clearly demonstrates that these men have been left out when it comes to getting to experience a lot of great sex toys, particularly male masturbators – and this is simply not fair!
Many sex toys have been designed for larger and more median sized penises, which leave a lot of men feeling neglected and left out when it comes to sex toys. Enter the Autoblow Pico, which is truly ideal for any man who is slightly on the smaller side. We reworked our other Autoblow toys, and made them ideal for men with much smaller members. There are larger massaging beads, no lip and anus part. It also features our signature Autoblow controller, and automated stroking feature that makes our Autoblow series completely different from any male masturbator on the market.
This toy manages to have all the fantastic features of our signature Autoblow, but is ideal for men of a smaller girth. Instead of feeling neglected when it comes to finding a sex toy or male masturbator, we have a solution for you at last. This toy will completely change your opinion and usual reaction to other male sex toys, which are often too big and even loose for your member.
The Autoblow Pico is fabulous because it is completely hands fee, unless you need to adjust the controller. You simply insert your dick into the shaft, and switch the toy on. The masturbator toy will begin to suck and tighten around your cock, and feels incredibly like a blowjob – you will literally be blown away by the sucking power of the toy. It will totally change the masturbating game for you forever.
Material:
Realism:
Easiness of cleaning:
Price:
Best of all? When you're ready or looking to switch it up, you can remove the silicone, bead-filled cover, to jerk off with as well. It's a silicone sleeve from inside to the toy, which you can remove at anytime. The sleeve is filled with layers of massaging beads, even more than any of our Autoblow toys, which are texturized to gently massage your cock and really increases the sensation you feel as you jerk away. This silicone layer allows you to plunge your cock deep into the toy, but can also be removed for pleasure on it's own. Fill it up with some lube, and you're good to go with the silicone sleeve – it feels completely amazing, and much better than just using your hand when you don't feel like using the Autoblow Pico.
The Autoblow Pico will totally change masturbating for you for better. It feels incredible, and cuts the work you have to do in half. Use with a partner, while watching some porn, or just simple use your imagination…
Customers Opinion/Feedbacks
"I loved the Autoblow Pico. I've been disappointed in male masturbators and male toys for a long time, but this totally surpassed my expectations." – Tom, Brooklyn, NY
"I decided to give the Autoblow Pico a shot, and was pretty impressed with the quality, and how easy it was to use. However, I much preferred using just the silicone sleeve." – Antonio, New Orleans, LA
"The Autoblow Pico was a nice change from other sex toys which are too big, such I'm kind of on the small side. The controller kind of threw me off, though." – Joseph, Dallas, TX
"The Autoblow Pico was great, and totally felt like a blowjob. I was reluctant when it came to using sex toys, and was nervous, but was totally impressed with how the Autoblow Pico." – Andrew, Newark, NJ