Editor's Pick
Autoblow A.I.

Artificial Intelligence

100% Silicone Sleeves

Sleeves Can Be Changed

Great Beginner's Toy

Hand Free

Easy To Clean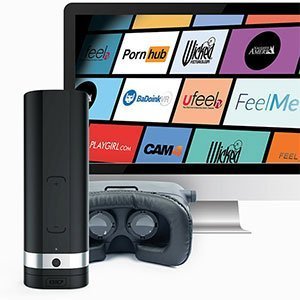 Kiiroo Onyx 2

Hands Free

USB Rechargeable

Sliding Scale Of Speed

Sleeves can be changed

Elegant And Discreet

Easy To Clean
Autoblow 2+ XT

100% Hands Free

No Batteries Needed

Industrial Strength Motor

Interchangeable Sleeves

Realistic Artificial Skin Material

Sleeves Are Easy To Clean
The web is awash with male masturbators of every kind. Just when you think they couldn't possibly introduce another male masturbator, another buch of them is out there, like ants around sugary stuff. Every online sex store has several pages devoted to them, and each store seems to favour its own particular stable of masturbatory sex toys. Adult sex toy reviews of many of these masturbators vary from damning to indifferent, a rare few are complimentary, but one male masturbator which seems to have garnered almost universal praise is the Sue Johanson Super Head Honcho.
Now that's different about the Sue Johanson Super Head Honcho is that Sue Johanson is no porn starlet simply cashing in and lending her name to yet another male masturbator. Quite the opposite is the case, she is pushing 80 and is a noted sex therapist with an excellent reputation across North America as being a frank, open minded, entertaining and enlightening lecturer, advisor and broadcaster on all matters relating to sexual experience. So Sue did not merely put her name to the Head Honcho, she actually designed it.
The Super Head Honcho is a silicone male masturbator which ticks a lot of the boxes for male approval.
Material:
Realism:
Easiness of cleaning:
Price:
First of all, silicone is the most hygienic material for long term use. Secondly, men love the tight and stretchy feel of the open ended Super Head Honcho, coupled with the interior suction cavities which create a sensuous vacuum as the man pumps. Thirdly, it's translucent and has the effect of making the penis look bigger whilst being able to watch all the action.
Cleaning is also nice and easy because you can actually flip the Head Honcho inside out and rinse it quickly. Like all sex toys it works best with water based lube applied both to the penis and to the toy itself.
Sue Johanson's Super Head Honch was voted toy of the year in 2008, and many adult sex toy reviews attest to its superiority. Some of these comments include:
"This product is awesome I have used it with my wife and we both enjoyed it. Easy to clean and just mindblowing."
"It is made of a good material, feels great, cleans easily, and can be used in a few different ways. If that's not enough, it's at a great price."
The Super Head Honcho retails online at around $19.95.
Customers Opinion/Feedbacks
Denzel – This male masturbator feels like a real vagina. You definitely need to use lube. It wasn't very durable and began to rip after some uses but this might have happened because I liked it too much?! 😛
Derrick – This thing can definitely make you cum, but I've tried and used better male masturbators. I recommend it because it's cheap and fun.