Editor's Pick
Autoblow A.I.

Artificial Intelligence

100% Silicone Sleeves

Sleeves Can Be Changed

Great Beginner's Toy

Hand Free

Easy To Clean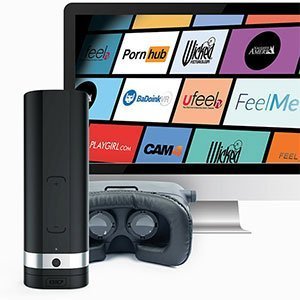 Kiiroo Onyx 2

Hands Free

USB Rechargeable

Sliding Scale Of Speed

Sleeves can be changed

Elegant And Discreet

Easy To Clean
Autoblow 2+ XT

100% Hands Free

No Batteries Needed

Industrial Strength Motor

Interchangeable Sleeves

Realistic Artificial Skin Material

Sleeves Are Easy To Clean
You can just imagine the day Belladonna turned up to help make this particular sex toy. Like every other porn starlet on the block, she probably thought it was her ass and pussy that they were interested in, so she would have spent hours getting herself looking and smelling just right in that area, but when the guy came to take the molds, it was a case of 'Er…no actually Belladonna, I am not interested in your pussy, it's your feet I want?'
'My feet? What kind of pervert are you?' But there you have it. Feet are a very well known fetish, and someone has finally put their foot down to make a toy for those that find feet the sexiest part of the female body.
So here, in Utra Realisitc Rubber incorporating'sil-a-gel' a silicone-like gel from Doc Johnson, is an ultra realistic exact size mold of Belladonna's feet. You can hold them, massage them, fondle, love and caress them. Place one on each side of your cock and stroke away to glorious satisfaction.
Place her little dainty toes in your mouth and suck away your wild fetish fantasies. The only thing you don't get to do with this Belladonna's foot soldiers is to fuck it, for that you have to buy Belladonna's other toy, Belladonna's Pussy & Ass, yes, on that particular session she got what she was expecting.
Material:
Realism:
Easiness of cleaning:
Price:
Just so you are not putting a total stranger's toes in your mouth, here is some information on Belladonna. Well Belladonna was born Michelle Ann Sinclair on May 21 1981 and is partially of Cherokee ancestry. She got into the adult film industry when an agent came to see a friend of hers in Utah and invited Belladonna to come to see him in Los Angeles. Quick on those famous feet, she travelled there the next day. She had a baptism of fire as her first adult movie scene involved an anal scene with an enema and she had to urinate on her co-star.
Famed porn film make John Stagliano described her as 'a woman with the most incredible sexual abilities I have ever seen.' She now owns and operates Belladonna Entertainment. She has also made a foot fetish film called Foot Soldiers – hence the name of her foot fetish sex toy.
The feet come with their own bottle of Belladonna's special lubricant to make the feet extra slippery and soft. If you have been looking for a sex toy with a difference and you are into feet, you could get your feet wet with Belladonna's Foot Soldiers. Priced at $59.95 depending on where you shop for them.
Customers Opinion/Feedbacks
Adonis – This toy is the best thing I could have ever bought. When my wife is not around to give me one of her great foot jobs, this is the absolute next best thing!
Albert – I really love this product!! It can even be used for anal training. Sliding in and out it feels a bit weird but in a fun way.