Editor's Pick
Autoblow A.I.

Artificial Intelligence

100% Silicone Sleeves

Sleeves Can Be Changed

Great Beginner's Toy

Hand Free

Easy To Clean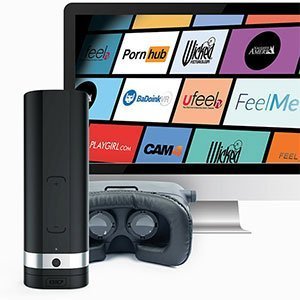 Kiiroo Onyx 2

Hands Free

USB Rechargeable

Sliding Scale Of Speed

Sleeves can be changed

Elegant And Discreet

Easy To Clean
Autoblow 2+ XT

100% Hands Free

No Batteries Needed

Industrial Strength Motor

Interchangeable Sleeves

Realistic Artificial Skin Material

Sleeves Are Easy To Clean
At first sight the Rotobator looks like a harmless domestic power tool, or perhaps an electric egg beater, but it's more, much more than that. If you're into the 'fluffer' style of blowjob, where the tongue tickles your helmet in rapid succession, this is the toy for you.
This ingenious wireless pleasure tool consists of a discreet, smooth base with 2 speeds of rotation and 2 of vibration, which are easily and independently controlled with sliders near the bottom of the base.
At the top of the Rotobator, there's an attachment for one of the two included heads; the masturbator sleeve and a tickler. Plunge your cock into the inviting silicone sleeve, it's lined with stimulating ribs that cling to your cock to massage and tease with each rotation for a highly sensual experience.
Designed for both new and experienced sex toy enthusiasts, with its two speeds, you can control the action all the way as it rotates and vibrates. Then just change the attachment to the tickler. Now the tickler is covered in hundreds of tiny silicone 'feelers' that are perfect for nipple and ball play.
Material:
Realism:
Easiness of cleaning:
Price:
Imagine if you can, 20 tongue-like flaps constantly twirling and lapping at your cock and balls all at the same time; possibly something akin to the Russian female gymnastics team all getting down and blowing you in unison. If you feel she deserves it, you can even share this particular attachment with your lady, because it can also deliver intense clitoral stimulation. And that's not all, the Rotobator also comes with a textured cup for nipple and ball play too, so the Rotobator gives you loads of room for creaming creativity.
There are 8 different patterns of vibration/no vibration/whirl/no whirl to choose from in one remarkable sex toy. Each attachment is made from soft, hygienic, hypoallergenic silicone that quickly cleans up and, with the proper care, can last a very long time. Use a good water based lube with the attachments, never a silicone formula, since it can break down the material over time. The Rotobator comes in a sturdy tol box for discreet storage when not in use and retails at $149.99. That's at the upper end of the pricing scale for this type of sex toy, but it's certainly capable of delivering a lot of very sexy fun.
Customers Opinion/Feedbacks
Brian S – This is the best sex toy I've ever bought! The Roto-Bator can do a lot of things but the most important thing is to use lubricant for an extra wet, extra wild encounter.
Josh V – The machine drains the batteries very fast, after only 3 uses. This makes the speed go slower and eventually stops. This sex toy does its job even thou the motor seems a bit weak.