Editor's Pick
Autoblow A.I.

Artificial Intelligence

100% Silicone Sleeves

Sleeves Can Be Changed

Great Beginner's Toy

Hand Free

Easy To Clean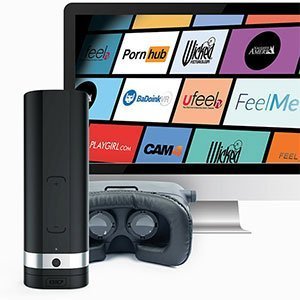 Kiiroo Onyx 2

Hands Free

USB Rechargeable

Sliding Scale Of Speed

Sleeves can be changed

Elegant And Discreet

Easy To Clean
Autoblow 2+ XT

100% Hands Free

No Batteries Needed

Industrial Strength Motor

Interchangeable Sleeves

Realistic Artificial Skin Material

Sleeves Are Easy To Clean
The Fleshlight is probably the most successful sex toy for men. It was developed by former SWAT officer Steven Shubin, when his wife was forbidden to have sex for the duration of her pregnancy. He began by developing a half torso of the female form, complete with a realistic pussy. He had already spent several hundred thousand dollars in production, when he offered to send one to a good friend of his who was a successful entrepreneur in his own right. He just wanted some product feedback. As it turned out, he got the feedback quicker than he bargained for.
Shubin offered to send his sex toy to the guy's home, but his friend quickly interjected with "No, please don't send one of those to my home, I will never be able to live it down."
Steve Shubin immediately recognised that he had a serious problem. If a friend would be ashamed to have his toy in his home, why would a complete stranger want to buy one from him.
Fleshlight Official Video
The Fleshlight - The Fleshlight Original instructional video
On a single journey to and from the airport mulling things over, Shubin solved the problem. He realised he needed to invent a sex toy that could be disguised, something that would look innocuous and unobtrusive. It needed to be an everyday object that guys would use. He hit on the idea of a flashlight, but once you open it up it's not a flashlight but a top quality pocket pussy with a washable and reusable textured sleeve. And instead of calling it a flashlight, he coined the phrase, 'Fleshlight'. So was born the most successful men's sex toy on the market.
With the Fleshlight, you get a soft, pliable Real Feel Super Skin masturbation sleeve made from a patented, high-quality material designed to authentically replicate the sensations of penetrative sex. The molded sleeve comes housed in an attractive and sturdy canister that resembles an ordinary flashlight, allowing for simple and discreet storage. It's easy to use, clean, and 100% safe.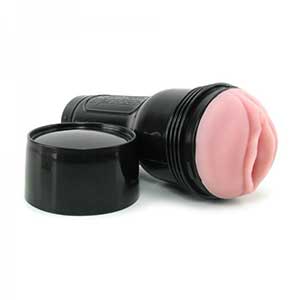 Material:
Realism:
Easiness of cleaning:
Price:
Your cock is spoilt for choice with authentic pussy, mouth or anal orifice sleeves each with a variety of cock pleasing beads, suction chambers and ribbed tunnels to penetrate and pump in and out of until you climax big time.
The latest Fleshlights are the exact pussy and ass replicas of top porn stars such as Eva Angelina, Lupe Fuentes, Jesse Jane, Tera Patrick, Jenna Haze and more are coming on line all the time.
Fleshlight STU

Fleshlight did not become the leader in the men's sex toy industry by accident, they have invested millions to make products that blow my mind, but out of those there is a top choice that I absolutely have to give the highest recommendation to. Why? Because it's my favorite and that can come as a bit of a surprise after you realize how much I liked the Super Ribbed, the Vibro and the Ultra Tight fleshlight sleeves.
There's a reason that the Stamina Training Unit surpasses them to become my favorite and that is, quite simply, results. No other model offers what the STU does and since it's available with a 10% off special offer then it is certainly going to be a smart investment for any guy who wants to be able to buy all the time they need in bed before letting lose with an ejaculation that's so well controlled and forceful your girl is going to feel it no matter where you choose to aim.
The best thing about the STU is the fact that it comes with not just the special unit in a cool golden case, that would be awesome enough, but the fact that they give you a special ebook that shows you how to employ what it offers for amazing results that do not take a lot of time to get once you understand the way the training works.
Every guy dreams of being the stud who really lasts until she's begging you to climax inside her, no matter which orifice you happen to be penetrating at the time, but few guys know the secret to stronger and longer lasting orgasms. Instead of having to rely on pills or strange exercises, with the STU it is a breeze to get to the level of a porn star simply by using this special fleshlight toy the right way.
The Real Feel Super Skin is a brand new break through for fleshlight and far superior to the first wave of models so that alone makes the investment amazing, but I would take advantage of the special offer that is available right now don't forget to purchase some extra lube while you are at it. Or maybe the His and Hers toy combo package so she has a chance to increase her own stamina. Once she sees how long you last, she might want to be able to get a few more orgasms in before you do. That is going to make any girl love your penis and consider you a genuine hero without having to use flattery.
Of all the fleshlights on the market right now, the STU tops them all because it delivers stamina like you always wished you had and offers sound advice along with a scientifically advanced unit that is going to blow your mind with how good it feels.
Original Fleshlight

As the cutting edge device it was, the original fleshlight contained this sleeve and definitely started things off right, but you might be wondering where the charm is with so many other new sleeves like the Wonder Wave, Super Ribbed and Ultra Tight out there now. Let me assure you that there is definitely a time and a place for the Original to shine so it's definitely worth adding to your collection of sleeves.
The fact is, this sleeve is perfect for when you don't want so much stimulation that you lose it right away. If you're in the midst of a great video and want to make sure you last no matter what, this is the one to use. It doesn't require quite as much lube as some of the other sleeves and it's still a perfect replication of the ultimate softness that the female vaginal canal provides.
Use the Original when you are already totally turned on and it can help you last a lot longer. If you got his and hers toy package, then you can both play while watching each other. If you're going that route then you definitely want the Original no matter how ribbed or beaded her toy is just to make sure you last the distance and give her every last drop.
This is one of the better investments and while not quite as useful for getting your skills up as the Stamina Training Unit (STU) model, it definitely brings a whole new sensation if you haven't already used it. The nice thing is you can go a lot faster since there's no artificial resistance and that's a real plus when you want to hammer it home during the end of a great session and lose your mind for a few panting moments.
For guys that aren't circumcised this can be a better choice due to the higher levels of sensitivity in the head of the uncircumcised penis, but you can change the suction levels to get the perfect sensation no matter what. And guys with really thick cocks will appreciate the width on the inside of the original fleshlight.
It's a good model to throw in with the 3 for the price of 2 sleeve deal and if you use the fleshlight brand lube you get better results since it's formulated for this unit. You can get this one for a low price and it's definitely a great way to get introduced to the fleshlight masturbators and the control powers it can give you for keeping your orgasms under your command.
Jenna Haze Fleshlight

Jenna Haze has long been one of my biggest fantasies, and has been known as one of the dirtiest girls in porn for even longer. She is the kind of girl you just do not bring home to momma and you only keep around doing the dirtiest and nastiest things. And that is what the Jenna Haze Fleshlight is all about. This model is as close as you will ever be able to get to one of the hottest, baddest, sexiest, and enjoyable porn stars of all time.
Aside from somehow convincing Jenna to ride me herself, this male sex toy really is as good as it gets.
Now I have to be honest with you guys, I am not usually a fan of the mouth orifice or the swallow sleeve when it comes to fun with my fleshlights, but when Jenna launched her fleshlight toy that all changed.
I mean, who could ever turn down a deep, fast, perfect blowjob from one of the queens of porn herself?
Knowing that the swallow sleeve was molded and modeled perfectly after Ms. Haze herself, and after reading how this new texture was sure to feel like a deep throat BJ how could I possibly resist?
And boy am I glad that I didn't.
For obvious reasons I usually watch porn and fantasize about the girls on screen with playing around with my toys, but it wasn't even necessary once I got my hands on Jenna Haze for myself. I instantly pressed my cock against her supple, perfect lips and was ready to see, feel, and even hear what it felt like to get sucked on by a true pro.
And it did not disappoint.
The deeper that I pushed myself inside Jenna's mouth, the better it felt. There are all kinds of tiny ridges that massaged my most private of parts, and it truly felt as lifelike and realistic as any blowjob I had ever head. PLUS, I could go as deep as I wanted without any complaints.
Jenna Haze certainly isn't a whiner that's for sure.
As if that wasn't enough, this blowjob toy doesn't only feel like getting a real blowjob from a pro, it actually sounds like one to. When and if you start jerking it hard enough, the Jenna Haze Fleshlight actually starts making those sloppy, sexy, and cum inducing sounds that any girl would with your cock deep down inside her throat.
Think about it. A perfect, deep, realistic, and cum-sucking blowjob from one of the sexiest girls in the world anytime I want?
Best money I have ever spent. Heck I've spent way, way more on girls that would practically cry at the simple idea of having my dick shoved down their throats.
I also have the ass and pussy sleeves that come with the Jenna Haze Fleshlights, but it is truly the swallow texture that makes this model stand out amongst the crowd. Whenever I feel the need to get my dick sucked, all I need to do is turn to Jenna and she takes care of me time and time again.
A BJ just isn't a BJ unless you can go deep, and that is exactly what the Jenna Haze toy allows you to do.
Stoya's Fleshlight

With her milky white skin, amazing dark red hair and a pussy that is so pink you won't believe your eyes Stoya was a natural choice to team up with Fleshlight and make the Pornstar Stoya Fleshlight.
Sexy Stoya has gone the extra mile for her Fleshlight sex toy and has had her mouth, ass and pussy all molded and turned into different toys. Now you can take her in all of her holes and get the full Stoya experience. Each of these entrances has a hot custom made inner sleeve. The mouth has a sleeve called "Swallow". Can you imagine how it must feel to have Stoya open up wide and swallow you down her throat? Now you get to find out. Her amazing, tight ass features a sleeve called "Forbidden". As the name might make you believe, this sleeve is tight, and feels amazing. For her pussy there are two options. The ever popular "Lotus" which consists of different chambers and a wild sleeve simply called "Destroya". The Destroya will blow you away. There are ribs and nubs and tight chambers. It looks amazing and feels out of this world.
When you buy a Stoya toy you also get a free subscription to the Digital Playground website. This site feature exclusive access to many of Stoya's hottest movies. Now you can tune in and watch this hot, gothic beauty in action while breaking out her fleshlight and feeling what it must be like to really take her from behind or have her ride you.
While you can always hold out hope that one day you can hook up with Stoya and bang her brains out, the Stoya masturbator can hold you over until that day arrives. It may not be the real thing, but it is so close if you close your eyes you won't be able to tell the difference.
Riley Steele Fleshlight

Perhaps the coolest thing the Fleshlight company ever did was contact some of the hottest porn starlets in the world and work with them to make custom fleshlights. One of those hotties is Riley Steele and now you can get the Riley Steele male masturbator.
Riley Steele is a blond bombshell with a body that is as tight as a drum and an ass that could stop traffic. Her fake pussy toy is a perfect replica of her world famous, very sweet pussy. On the site they have some hot pictures of Riley laying on her back with her legs spread open and her toy held up next to her pussy and it is so accurate and well-made that it looks like it could be a clone.
With the Riley Fleshlight you can choose between two different internal sleeves that Riley herself has selected because she feels that these two sleeves best represent what it actually feels like to be inside of her. Sure, we all want to have sex with Riley, but for 99.9% of us that is never going to happen. This fleshlight toy is the closest we will ever get to having actual sex with Riley.
When you order the Riley Steele toy you get a couple of great bonuses. First you get a free 2oz bottle of Gun Oil lube which is some of the most sensual and amazing lube you will ever feel. You also get a free subscription to Digital Playground a website that has all of the hottest Riley Steele videos on it. Now you can check out the hot videos while using your Fleshlight. Just load up a POV style scene with Riley in it, get close to the TV and use your Riley Steele fake pussy and it will be almost like screwing the real thing.
Give the Riley Steele Pornstar page a look. If you are a Riley fan it is a must have item.
Fleshlight ICE
As you guys know, I really love the Fleshlight toys for males, but there are so many it can be hard to call a real favorite. Whenever they come out with something new, though, you know you have to try it out to see what it's like because if it bears the Fleshlight brand name then you already know it's going to be good – right? Well, when I first laid eyes on the Fleshlight ICE I honestly was not too sure exactly what the advantages to these masturbation device are.
After all, it appears to be just like the other models except it comes in a transparent clear material that you can see straight sure. Curiosity got the best of me, so I did end up buying it, but could it really live up to the Fleshlight name and convert to being a fan of the ICE?
I have to confess, the first time I used it, I couldn't really see much difference in the sensation. Yes, it felt great with the pussy orifice, but it wasn't all that different. I watched my movie, got off and wondered if I had wasted my cash on this one. It didn't get cold or do anything strange, so I wondered where the magic was. I waited a day or two, confident that I must have missed something. I tried it again, but I got the same results.
Now as most of you already know, it was my girlfriend who got me started with the fleshlight toys. This was her way of making sure my needs got taken care of as a man in case she didn't happen to be around when the need arose. Since I can take the toy with me on business trips, we have way better phone sex than ever. She can use her toys and now I have mine. It turns out, she showed me what I was doing wrong.
Here's the part I was missing – the ICE toy is not supposed to feel different, the point of it is in the visual aspect. Now, I don't know about you, but I have spent a decent portion of my life looking at my penis on a fairly regular basis. I didn't think there would be much left to discover, but my girl showed me how wrong I was on that count.
If you have ever noticed, a lot of women will tell you that they "learned a lot about their body" by using sex toys. They don't have outward genitalia so a dildo, a vibrator and other toys help them explore themselves, so to speak, so they can learn more about places their fingers might not find all that accessible. Makes sense, doesn't it?
This is where the Fleshlight ICE goes from a nifty toy to straight up outstanding as a sexual aid. Once you get into the swing of watching what you're doing, you will get a lot more than impressive visuals. Because you can see inside the toy, you can actually tell what part of it is touching you where and when. This is a big aid that is going to come in handy because, like girls know, we can actually learn a whole lot more about our bodies than we think we already know.
For instance, you can learn about timing with the Fleshlight ICE in a way that is not going to happen with the other models. You learn about the depth a lot more precisely than you would if you were going off of sensation alone. Let's face it, sex is a pretty mystical experience for the vast majority of us because we can't really see what we're doing the way you can in a porn movie. That's why a lot of people watch porn, actually. They want to know how to have sex better.
This is primary purpose of the ICE male masturbator. By showing you what you're doing and how you're doing it, you start to learn in much more vivid detail exactly how what you do affects your own sexual sensitivity and once you learn that, you get a great deal more control. Yes, the visual stimulation alone is fascinating, but you can really use this sex toy to take your lovemaking skills to the next level. I definitely advise buying this one!
Fleshlight Vibro

Since it first came out, the Fleshlight has done a lot to revolutionize the way that guys get off when they haven't got a girl around, but now they have really done something amazing with the Vibro model. Girls have long had access to vibrating toys and if you're like me then you've probably given them a shot and found that they don't do a whole lot for the penis even if the sensation is vaguely amusing. Getting the most good out of something that vibrates required a toy designed just for the penis and Fleshlight responded with some pretty impressive brilliance.
This unit comes in 3 different textures, including Original, Touch and Cyclone. The Original Vibro Model is a lot like the normal Original Fleshlight, just a smooth vaginal canal design that is going to vibrate for you, but the Cyclone and the Touch offer a lot more.
The Cyclone actually has a twisting number of ridges that create a crazy sensation when you move your male sex toy back and forth.
The Touch has a number of tiny 'fingers' that are designed to stroke the full length of your cock and vibrate while they do so. If you have not used a Vibro yet then you definitely want to keep in mind you may lose it fast the first few times. This unit is not for those who want an immediate super long experience because it's extremely pleasurable immediately.
If you ask me, this is the perfect unit to choose with the special offer that's going on right now because this is the unit that is going to see a lot of use once you get it. If you go with the special offer for the His and Hers package then you can both get something that vibrates and get some amazing experiences that are going to create incredibly hot memories for both of you later.
Plus, that way once you've gotten worked up to the climax phase you can let her have the full reward of the unit's work. That's a common scenario for me and definitely one she's bound to enjoy too since it puts you both on equal ground in terms of getting to enjoy something vibrating. You can also have her use it on you while you use a toy on her – delicious torture.
Warming the Vibro's sleeve up with some warm water is going to give you a much more authentic experience and is definitely worth giving a shot to.
Fleshlight Sex In A Can

Now who doesn't just love to lay back and enjoy the lusciousness of having your woman's lips on your cock and being sucked completely dry? Oral sex is most men's fantasy and let's faces it, it's not always your woman's. So there can be some disappointment in this department from time to time but now with your very own sex-in-a-can little number, you will never have to wait or beg for a blowjob ever again!
So what is this mystical and magical fleshlight sex in a can you ask? Well it's a beer can like you've never seen or felt before. If you have always wondered what it would be like to stick your pecker into your favorite brew but were worried about the sharp edges well you can be assured that fucking this little sexy can is nothing like that at all.
In fact sticking your cock into the succu dry toy is guaranteed to be the hottest, wettest, most luscious feeling blowjob that you have felt in a long time if not ever! These specially designed cans are filled with soft, supple silicone that is molded and perfectly shaped to replicate a woman's most sensual mouth that you think you are being sucked up by a perfect goddess herself.
In fact you will have to do a double take to not think that someone's luscious lips aren't what's wrapped around your cock when you feel how lifelike this male masturbator feels on your manhood. Just thinking about wrapping those warm and soft lips around your very own hard and wanting cock is going to send you to new heights that you've only dreamed about before and wanted way more times that you have ever been able to enjoy.
And hey you don't even have to play at it all alone. No way. You can bring your very own fleshlight girl into the bed with you and your partner to play with and enjoy together. Your woman can take turns sucking your cock with her very own mouth and then watch as you get sucked off by another woman's mouth without having to deal with really having the "threesome" that you secretly have been wanting forever! Why deal with all that drama when you can have two pussies or two mouths to fuck without any of the nonsense cuming along with all the fun?
That sounds like an amazing way to spend your next sex session and you never know it might spark a whole new type of lovemaking that will get both of you to explode all over like you never have before. And why stop there you can add all sorts of other hot and sexy toys into the mix and end up spicing up your sex life so much you have to bring in the fire extinguisher to cool things down!
Imagine having your very own personal blowjob queen available for you at any time, whenever the mood strikes you, day or night, home or office, work, or play. You can just whip out your very own secret fleshlight and with a screw off of the top, you are instantly transported into your own idea of heaven on earth with this baby sucking and fucking your cock dry within minutes.
You are just not going to imagine how you have survived so long without having one of these sex-in-a-can units in your world.
The toys can come with extra ribs inside to add sensation. They can come in super tight versions you will make you feel like you are fucking the tightest pussy on the planet. Or fleshlights can even come with a special vibrating feature to really rock and shake up your world.
Oh just thinking about fucking one of these numbers is enough to make any man cream his jeans and you can play with one of these male sex toys without having to take it to dinner first! It's all about you baby and with a succu dry fleshlight you are going to be thinking about those luscious lips that are all yours all day long.
So why not plan your next weekend right now? Order one or two or even a few of these hot, and sexy little fleshlight girls and know that you are going to fuck your brains out as much as you want, whenever you want, and have the time of your life doing it? Add a few other treats into the present as well and plan a whole series of wild and playful times that will mean that you won't ever have to waste a boring Saturday night at home again you can have all the fun you have ever wanted and dreamed about and even more.
Go ahead and do it. Don't wait one more minute to finally have all the blowjobs and fucking frenzies from fleshlight ICE that you have ever wanted and deserved right now. You, and your cock, will be so glad you did!
Succu Dry Fleshlight!

Fantasies about vampires are nothing new to the world, or to my sex life to be honest. Ever since the days of "Interview with a Vampire" there has been a burning desire to somehow be a part of that underworld of sexual tension, rough sex, forbidden pleasure, and dark ecstasy. But that has always been one of those lesser mentioned fantasies of mine, and one that is absolutely impossible to replicate or have satisfied.
Or at least it WAS impossible.
While my fantasies and vampire fetish may have started years ago, it took a bit longer for the rest of the world to catch on. Thankfully with the pop culture explosion revolving around True Blood, Vampire Diaries, and the Twilight movies everyone everywhere is talking about vampires and how naughtily sexy and desirable they are. Even still, envisioning Bella and Edward screwing their brains out or watching Sookie and Bill get their bang on during True Blood was about as far as I could go with this little fetish of mine, and I was never really sure why or how I would be able to take it further aside from some heavy necking with lady friends or an all out vampire costume play party. Not to mention the goth girls I've met are just not into me!
Don't get me wrong, vampire sex scenes are hotter than hell, but a part of me wanted a bit more and I was hard pressed to find a willing partner to get down, dirty, rough, and vampire-like with me.
And then my fantasy was answered thanks to the same people that have pretty much taken my sex life from zero to hero single-handedly, and helped me to recreate practically all of my inner, secret, darkest fantasies-Fleshlight! All thanks to the Succu Dry toy.
Now believe me, I have stuck myself in side all kinds of male masturbation toys, every type of Fleshlight you can imagine, and played around with every sex toy I have come across to try to find out just what would make me feel best. And, as is pretty obvious, I love each and every male masturbator that I have the pleasure of playing with. But to compare those other versions to the succu dry fleshlight in a can is simply unfair.
I mean this is the ultimate in dark fantasies. I, and you, get to play around with an actual vampire! Now I have my very own sexy, hot, sultry, dangerous, fanged little slut that I can play around with as soon as the sun sets in and night creeps forward. Sure I COULD play with this sweet little thing during the day, but you have to admit that would ruin the allure and mystery that absorbs my entire little vampire fetish. It's far more fun in the dark as I pretend the slutty vampire desperately needs to feed and drink my cum, instead of the usual bloodbath that would keep her alive and well.
Now I have to tell you that there are a few subtle differences to keep in mind when using the succu dry toy in a can as opposed to the other styles, options, and toys I have told you about in other posts. While most of these toys are an absolute smorgasbord of pleasure when warmed up in a sink of hot water, you can't possibly use the same treatment on your new vampire toy now can you?
As soon as my succu dry showed up on my doorstep I immediately tossed it into the refrigerator hoping that it would get that cold, dead, realistic feel that only a vampire could bring into the bedroom.
I could barely hold off with all of the anticipation I had build up thanks to the images of Jessica from True Blood going buck wild on my cock all day. I somehow managed to distract myself long enough to let the sultry little toy get cold, and then when I grabbed it and opened up the can I almost blew my load on site.
The succu dry has the sexiest, most enticing vampire mouth I have ever seen as the fangs are nestled perfectly along the side and the lips just beg to be filled to the brim with something rock hard, as long as it isn't a wooden stake.
I will admit I was a bit intimidated, I mean what happens if by chance the succu dry came to life and got a craving for real blood? Well that's kind of exciting to me. A vampire biting your cock makes for a good sex story!
I slowly begin sliding my fingers inside, swirling around the lifelike fangs, and even gently kissed the supple lips as I envisioned the red-headed vixen from True Blood losing control and begging for my shaft. I gently rubbed in some of my favorite lube, braced myself not knowing how the succu dry would feel, and slowly slipped my cock inside the vampire's pleasing lips.
Everything I envisioned about how pleasing a vampire's mouth would be turned out to be entirely true. I mean they are professionals at sucking right? And boy could I tell. This was unlike any other blowjob I had ever had, or any other fleshlight toy I had ever used. I couldn't resist staring as the sexy fangs wrapped themselves around the sides of my hard penis, and the knobs and tiny fangs on the inside of the toy drove me to the brink of explosion within seconds.
And that is when things got really serious.
As soon as my dick began to tighten and I felt myself getting ready to cum, it was like the succu dry in a can came to life. It clenched down, grabbed hard on my member, and didn't let go until it had sucked every last drop out of me. It was an explosion and feeling of ecstasy like I had never had with a toy or a woman before, and I just lay there on the floor trying to recount all that had happened.
I simply cannot recommend this new male sex toy enough, it just doesn't get any better. Even if you have never explored a vampire fetish and never thought about what it would be like to be sucked dry by a demon of the night, and I know you all have, this toy provides the experience of a lifetime.
You've got absolutely nothing to fear, and nothing to lose except for all the cum that will undoubtedly be swallowed by your brand new, slutty toy.
Misty Stone Fleshlight

You guys already know I am an avid Fleshlight lover and simply have an insatiable appetite for how well these toys work and how exceptional they feel. Each one brings something new to the table that another one doesn't, and having the luxury to switch things up, change sleeves, and play with a new fleshlight girl every day is something I wouldn't change for the world.
Which is exactly why my cock leaped to attention the moment word spread about the new Misty Stone toy and the unique Bump n Grind sleeve that comes with it.
It has taken next to no time for feisty Misty to jump into the ranks of the world's sexiest porn stars through her appearances in the Avatar parody, the Cosby Show parody, and the Flintstones XXX parody. Needless to say, the moment I first saw her I couldn't shake the visions of her banging ass and perfect dick sucking lips out of my head.
The new Misty Stone toys are the perfect contrast to the other Fleshlight girls I own, with her beautiful caramel skin and the unique bump n grind skin that meshes so perfectly with her look and personality. Once I unwrapped my new toy, I couldn't believe how realistic the sex toy looked as they were able to match her skin color or how perfectly sexy her swallow sleeve was in person. In fact, I didn't even bother downloading or buying Misty Stone porn to go with it, I was just so turned on the exotic look of the Fleshlight and so excited to bump n grind with her that I whipped it out and went to town.
In fact, every since the Misty Stone Fleshlight showed up at my house I have had an insatiable fetish for black afro-American women that just has not stopped. Thankfully I can satisfy all of that whenever and wherever I want.
The best way to describe the new Bump n Grind texture is that it is similar to the Vortex sleeve but 10 times better. It is one of the most realistic and orgasm inducing textures I have ever felt.
Probably the best part about picking up the Misty Stone male masturbator was that I got a discount with the more I purchased. I couldn't decide whether I wanted to fuck Misty in the ass, in the pussy, or in the mouth, and I didn't have to. These Fleshlight versions are some of the most realistic I have ever seen so I gobbled them all up (and now Misty gobbles on me on the regular if you know what I mean) and can barely ever put them down.
In the end, now I'm sitting back and simply praying that Fleshlight keeps cranking out new models for all kinds of ebony porn girls. While Misty keeps me more than satisfied, you can never have too many models or too much fun with Fleshlight girls these days. I get any kind of girl, any kind of sex, and any kind of pleasure I want whenever I want it.
There are no regrets with Misty Stone, or any Fleshlight model for that matter.
Customers Opinion/Feedbacks
John, San Francisco – Wow is pretty much the only thing I can say about this wonderful toy. I reached climax only after 5 minutes!!! I won't stop buying until I have all the girls 😀
Pablo, Chicago – The toy arrived when the tracking number said it would. It almost feels like the real deal. I've used it at 4-5 times since it arrived, and I have to say I'm in love with this damn thing. You guys are great!
Andrew, Illinois – Thank you guys for making such a wonderful product, it really changed my life, and probably many others' as well. I want to marry it 😛