Editor's Pick
Autoblow A.I.

Artificial Intelligence

100% Silicone Sleeves

Sleeves Can Be Changed

Great Beginner's Toy

Hand Free

Easy To Clean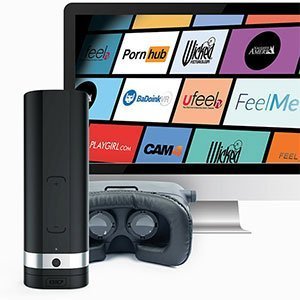 Kiiroo Onyx 2

Hands Free

USB Rechargeable

Sliding Scale Of Speed

Sleeves can be changed

Elegant And Discreet

Easy To Clean
Autoblow 2+ XT

100% Hands Free

No Batteries Needed

Industrial Strength Motor

Interchangeable Sleeves

Realistic Artificial Skin Material

Sleeves Are Easy To Clean
Aria Giovanni, like so many other porn stars these days, has her own sex toy – but instead of a ubiquitous pussy and ass sex toy, this is an oral toy .The Aria Cock Pleaser, again made by California Exotic, has soft touch rubber, which, when you lube up, insert your cock and switch on the multi-speed controller, will give you a rotating and vibrating blow job with the soft touch rubber tongue, so the Aria Cock Pleaser provides tongue play in addition to a sucking motion.
The mouth has been moulded from Aria's very own and so both the look and the feel are as authentic as possible. But let's be honest, there are so many porn stars out there promoting and pushing endorsed products, you could be forgiven for never having heard of Aria Giovanni. So who exactly is she?
She was born November 3rd 1977 in Long Beach California. Like many California kids growing up, she encountered drug problems at a very early age. At the age of just 12 she was in rehab for 26 months for drink and drug related problems. Maybe getting all the problems out of the way early in life was a good thing.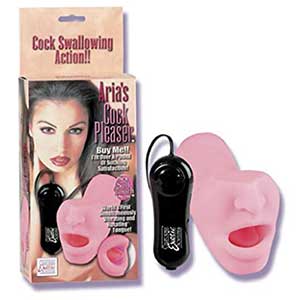 Material:
Realism:
Easiness of cleaning:
Price:
She since cleaned up her act, and became a major in bio chemistry. Her friends convinced her she should go into modelling, and she was Penthouse Pet for September 2000. Since that time she has gone on to establish herself both as a pornographic actress and in television series.
It's evident that Aria gives good head because her sex toy gets rave reviews. Customer reviews are a great way to discover if the product is worth all the verbal blowjob you get from the online sex store:
'Amazing with or without turning it on. It's more expensive than some, but well worth the money.'
"I find this product really stimulating and would recommend it to anyone – it's even better than the real thing!!!"
Price: $67.99, but again, shop around for the best price.
Customers Opinion/Feedbacks
Brown – The blowjob machine managed to get me off, but I broke it after just 2 uses. My bad: P – Good suction for me, and the tongue was great. Thanks for this amazing toy!
Andrew – Basically the toy did the job and it does get me off each and every time I use it. I love the vibrations but with the way tongue works I would not say it feels like a mouth and blow job.