Editor's Pick
Autoblow A.I.

Artificial Intelligence

100% Silicone Sleeves

Sleeves Can Be Changed

Great Beginner's Toy

Hand Free

Easy To Clean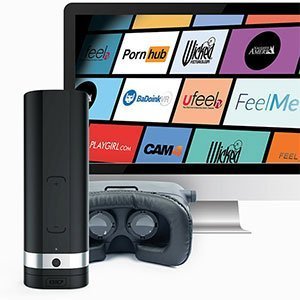 Kiiroo Onyx 2

Hands Free

USB Rechargeable

Sliding Scale Of Speed

Sleeves can be changed

Elegant And Discreet

Easy To Clean
Autoblow 2+ XT

100% Hands Free

No Batteries Needed

Industrial Strength Motor

Interchangeable Sleeves

Realistic Artificial Skin Material

Sleeves Are Easy To Clean
This is the perfect toy for butt play beginners. And it doesn't matter if you're a boy or a girl. Unlike some of the monster butt plugs you might have seen, stouter than an oak tree and reaching for the sky, the Rotator is not scary big, measuring just 4 ¾ by 3in height and 3.5 inches in circumference, but it does pack a satisfying wallop aided by the beads that rotate and vibrate as you ride it. You can use the controller to deliver 6 speeds of rotating spin. What's more, the beads don't jam so the fun just continues as provide hot vibes at the entrance to your anus, which is just the spot where you want the vibe.
Just apply the suction cup at the base to a solid surface so you can control all the action. Lube yourself up and gradually slide the Rotator in. The penetration alone will give you a thrill, but once you hit the speed-controller, the vibes instantly kick in giving you powerful reams that will drive you wild.
Material:
Realism:
Easiness of cleaning:
Price:
The 6-speed option allows you to increase or decrease the vibes at the flick of a switch.
The Rotator is really very good for anal stimulation. Being just the right size, it can still be moved in and out without becoming uncomfortable.
The 6-Speed Back Door Rotator is made by California Exoticc. They are one of America's leading manufacturers of adult toys and novelties. Since 1994, the company has been at the forefront of research and development of products to enhance the sexual experiences of women, men and couples. From its 200,000 square foot operations center in Chino, California, 'Cal Exotics' maintains a network of manufacturing and distribution facilities world wide. The 6-speed Back Door Rotator is approximately $26.95 but check various online sex stores for the best price.
Additional Info
Anal toys are among the best sellers in many online sex stores. But why have anal toys become so popular.
Anal toys for men have become big sellers due to the fact that a lot of guys have discovered the male g-spot – know as the prostate. Anal toys such as prostate massagers have started a lucrative new market category as far as sex toys go.
Of course prostate and perineum massage have been practiced and enjoyed for centuries but now many straight men have become more adventurous and are exploring their sexuality with prostate massagers with incredible results. Many guys have stated how mind blowing the orgasms can be with prostate anal toys.
The prostate is located approximately two inches inside the anus. It's a chestnut sized gland tucked just under the bladder. When it is massaged it produces intense sexual sensations.
Customers Opinion/Feedbacks
Josh – It felt pretty good, but for a greater sensation I wished it was a little bigger, in the same shape.
Alex – This was ok, but the rotating beads didn't felt like much more than regular vibration. I suggest you use a lot of lube, as it might hurt if you are a beginner!