Editor's Pick
Autoblow A.I.

Artificial Intelligence

100% Silicone Sleeves

Sleeves Can Be Changed

Great Beginner's Toy

Hand Free

Easy To Clean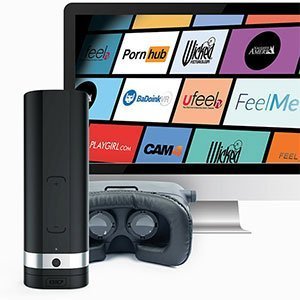 Kiiroo Onyx 2

Hands Free

USB Rechargeable

Sliding Scale Of Speed

Sleeves can be changed

Elegant And Discreet

Easy To Clean
Autoblow 2+ XT

100% Hands Free

No Batteries Needed

Industrial Strength Motor

Interchangeable Sleeves

Realistic Artificial Skin Material

Sleeves Are Easy To Clean
When it comes to masturbation, it's easy to fall into a kind of a rut. That is, many men don't really think about how they masturbate, despite the fact that they might spend hours a week doing it. The basics of masturbation are very easy and very rewarding, so for most guys there's little reason to worry about how to improve it. However, with a simple sex toy such as an artificial pussy, masturbation can be made several times more pleasurable with almost no added effort. So the question is: why the heck not?
The follow up question, of course, is what sex toy should you use to maximize your pleasure? There are actually a lot of sex toy options for men. Probably the most common choice is the artificial pussy toy. Just as the name implies, these toys are made from synthetic flesh and are shaped like a real woman's vagina, albeit one that is somehow detached from her body.
You might think that an artificial pussy can't compare to a real one. Ten years ago you might've been right, but today the technology used to make this fake silicone skin is actually very advanced. The skin is a nearly perfect facsimile of the real thing. It's not too hard and plastic-like, but it's almost not too soft or squishy. It's just right! But that's not the only thing that makes artificial pussy toys great.
The other big advancement in male sex toy technology is the advent of new types of textures. With the old style of sex toy, the insides of these toys would often just be featureless, so the only stimulation would be from the friction of skin on fake skin. Effective, but certainly not using sex toys to their full potential!
Modern sex toys usually feature textures designed to maximize male pleasure on the inside. So instead of just flatness, you'll have things like little "speed bumps," ribs, or even twisty textures. These textures grip and tease the penis in unique ways that you wouldn't be able to experience anywhere else – even with a real woman.
One final type of toy you should be aware of: the blowjob simulator. There's really only one choice when it comes to this type of toy: the Autoblow. This toy is similar to typical fake vagina toys, but it has a motor that drives its movement. Unlike other toys that have to be moved by hand or held in place and thrust into, the Autoblow 2 provides a fully hands-free masturbation experience – a simulated blowjob!
If you want to check out this powerful new sex toy, visit fangtasminc.com. Get ready to enjoy masturbation in ways you never have before!