Editor's Pick
Autoblow A.I.

Artificial Intelligence

100% Silicone Sleeves

Sleeves Can Be Changed

Great Beginner's Toy

Hand Free

Easy To Clean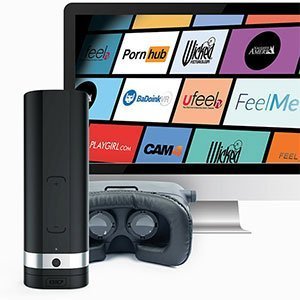 Kiiroo Onyx 2

Hands Free

USB Rechargeable

Sliding Scale Of Speed

Sleeves can be changed

Elegant And Discreet

Easy To Clean
Autoblow 2+ XT

100% Hands Free

No Batteries Needed

Industrial Strength Motor

Interchangeable Sleeves

Realistic Artificial Skin Material

Sleeves Are Easy To Clean
Sex toys for men can be a simple way to enhance your sex life as a man, whether you are single, in a relationship, married or swinging. The beauty of sex toys for men is that they are quite flexible and they can be used for more than just masturbation. Rest assured that sex toys can really make masturbation more fun, but they can also be used to good effect during regular (or not so regular) sex.
For a long time, sex toys were mostly only used by women, and the options for sex toys for men was pretty limited. Fortunately, that has been changing in the past decade or so, and now there are some amazing sex toy options for men. If you haven't kept up with the latest, you may be missing out on the new generation of male toys that will quite literally blow you away. The primary use for sex toys for men is to serve as a "replacement" for a real partner. Some would say that this attitude is unhealthy, but let's face it – some of us just don't have much luck with the ladies. In particular, a lot of men out there can't land the beautiful women that they wish they could. Maybe they're not good looking enough or they just don't have the charm – whatever the reason, some women are just off limits.
If you're pining after a woman you just can't get, that can get frustrating. A sex toy can be a way to make your fantasies about that woman more real. It could be a co-worker, some girl you see on the train, or even your favorite porn star. With a sex toy, you can feel more like you're with your dream girl as opposed to just being with your hand.
But, sex toys for men aren't just for the desperate. Any guy who is in a long term relationship knows that that isn't necessarily a guarantee of sex any time he wants it. Sometimes people just get too busy to make time for sex, and sometimes the spark just fades for a while. Other times, one partners sex drive is way bigger than the others, so masturbation is just the logical choice. In those situations, a sex toy can be just what the doctor ordereing sex toys is easy and convenient. They don't add much hassle to the masturbation process, but they enhance the pleasure by many times. With the right technique and a little imagination, using a sex toy can be even more sensational than actually having sex. It may sound crazy, but it's true – the way that modern sex toys are designed lets them offer sensations that real sex can't even live up to!