Editor's Pick
Autoblow A.I.

Artificial Intelligence

100% Silicone Sleeves

Sleeves Can Be Changed

Great Beginner's Toy

Hand Free

Easy To Clean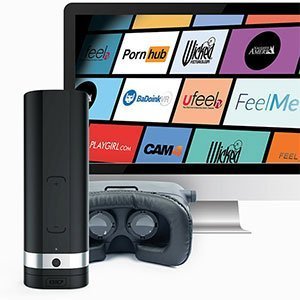 Kiiroo Onyx 2

Hands Free

USB Rechargeable

Sliding Scale Of Speed

Sleeves can be changed

Elegant And Discreet

Easy To Clean
Autoblow 2+ XT

100% Hands Free

No Batteries Needed

Industrial Strength Motor

Interchangeable Sleeves

Realistic Artificial Skin Material

Sleeves Are Easy To Clean
At first glance, a prostate massage toy may not look like anything special. If you don't know much about sex toys, you could easily confuse a prostate massage toy with another run of the mill sort of anal dildo. However, a prostate massager is so much more than a simple dildo. There are a lot of features that make prostate toys special, and make them some of the best sex toys that a man can own.
The first thing that is different between a prostate toy and a regular anal dildo is that a prostate toy is usually a lot more curved. While some anal dildos will have a curve to them, prostate toys have a much sharper angle. Since the prostate is located along the lower wall of the rectum, the toy must be curved enough to reach. This lets the head of the toy target the prostate perfectly.
Another notable difference with prostate massage toys is that they tend to be more bulbous than a standard dildo. While most dildos or vibrators are mostly the same thickness from base to tip, prostate toys tend to have a lot more bumps and grooves in them. This difference is important because it helps the toy to move around once it's inserted.
Most good prostate toys are designed to be used in a hands-free manner. That means that once you insert the toy, it stays inserted and provides stimulation without you needing to move it by hand. This is a lot more effective and comfortable than trying to manipulate a toy by reaching around behind yourself and moving it.
Many of the top prostate massage toys also feature something known as a perineum tab, or p-tab for short. This is a small hook-shaped tab that hangs off the base of the toy. Once the toy is inserted, the p-tab rubs up against the perineum (hence the name). The perineum is the closest you can get to the prostate from outside, so the p-tab provides some extra stimulation.
Using a prostate massage toy is practically foolproof. While the male prostate is called the male g spot by some, it's not hard to find like the female g spot can be. Inserting a prostate toy pretty much ensures that you'll be able to enjoy the full force of a prostate massage. The only problem for some men is getting over the idea of inserting a toy anally. If you've never tried anal toys before, it may take some getting used to. However, once you've felt the kind of pleasure that only a prostate toy can give you, you'll get over that issue quickly! Ready to try a prostate massager?