Editor's Pick
Autoblow A.I.

Artificial Intelligence

100% Silicone Sleeves

Sleeves Can Be Changed

Great Beginner's Toy

Hand Free

Easy To Clean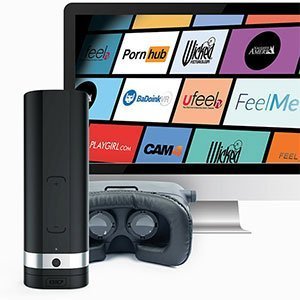 Kiiroo Onyx 2

Hands Free

USB Rechargeable

Sliding Scale Of Speed

Sleeves can be changed

Elegant And Discreet

Easy To Clean
Autoblow 2+ XT

100% Hands Free

No Batteries Needed

Industrial Strength Motor

Interchangeable Sleeves

Realistic Artificial Skin Material

Sleeves Are Easy To Clean
No company would ever admit that their product is bad and many go through great lengths to make their product look good even if it's not. That's why so many men have wasted their money on pocket pussys that were either poorly made or weren't what they needed to help them enhance their masturbation. To help prevent men from having to continue to make these purchasing mistakes these evaluations go over in detail some of the best and worst male masturbators available on the market.
The Virtual Touch Pussy is one of the most basic but effective pocket pussys a man can find. Available online through most adult toy websites it is in the medium bracket as far as price. The synthetic skin is not only colored in various realistic skin tones but it also is made to feel like real skin. The interior is basic since it's a tight, smooth hole that allows a man to easily slip in and out of the toy during his masturbation. Overall the toy is very realistic in the way that it portrays a woman in its visual presence and physical sensations although not very creative.
Pussy Palm Pal is one of the many cheap options available for men and like the other cheap options men get exactly what they pay for. For a man looking for anything that's not his hand, the Pussy Palm Pal fits the bill. Men who are interested in pocket pussys that make masturbating more fun will be disappointed with a toy like this. The texture is soft and smooth but not as flexible as some other brands and models, requiring extra lubricant just for the average penis to be able to fit comfortably. The length of time this toy stays in shape for is also rather inadequate although easily replaced for the price.
Fleshlight products have become a favorite among men who enjoy pocket pussys. They are one of the higher priced products but they also provide a better quality product which is long lasting and there's a wide variety. They have that same realistic feeling in their synthetic flesh even though many of the models have a light pink color as opposed to a more natural flesh tone. The Fleshlight pussys also come in a nice selection of internal textures and shapes changing the sensations with each one and some even enhancing the suction that a man will feel while using the toy. Easy storage and cleaning have also helped Fleshlight become a top rated toy because of how it helps to keep the toy in good shape for a long period of time. This is perhaps the best pocket pussy when it comes to cost and quality.