Editor's Pick
Autoblow A.I.

Artificial Intelligence

100% Silicone Sleeves

Sleeves Can Be Changed

Great Beginner's Toy

Hand Free

Easy To Clean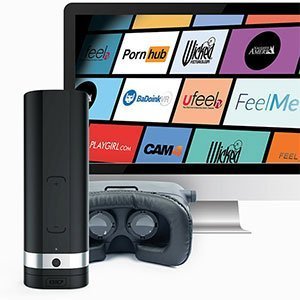 Kiiroo Onyx 2

Hands Free

USB Rechargeable

Sliding Scale Of Speed

Sleeves can be changed

Elegant And Discreet

Easy To Clean
Autoblow 2+ XT

100% Hands Free

No Batteries Needed

Industrial Strength Motor

Interchangeable Sleeves

Realistic Artificial Skin Material

Sleeves Are Easy To Clean
The JackMaster is made by California Exotic, based in Chino California, they have become market leaders in the production of sex toys since 1994. The JackMaster, so the claim goes, was recently voted the number 1 sex toy by the American Pumper's Association. Every sex toy website will happily tell you this, but who exactly are the American Pumpers Association?
A search on Google fails to retrieve any information about them save for the number 1 status they have awarded The JackMaster. There's an American Concrete Pumpers Association, but they only pump concrete and so one has to wonder whether this organisation really exists, or whether it was invented purely to add a measure of perceived gravitas to the JackMaster.
Whether or not the American Pumpers Association really exists, The JackMaster most definitely does and it is, indeed a fine masturbator. It's a 7.25" x 3.25" translucent, dual-sided jam jar of a sex toy allowing you to penetrate it from both ends and watch all the action as it happens.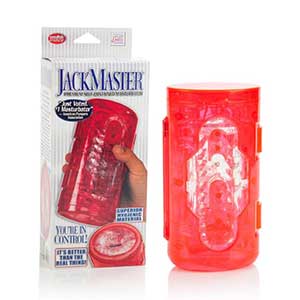 Material:
Realism:
Easiness of cleaning:
Price:
The intensity level of your grip can be varied throughout the session as the sides are Flexigrip, so it can be squeezed to increase or decrease pressure as you go.
As for the interior, it's a veritable playground of cock pleasing pleasure with a series of state of the art tinglers and ridges within, designed to ensure intense pleasure and suction, while additional pressure can be added to the equation by squeezing on the sides as you pump.
The JackMaster easily opens up for cleaning and rinsing and is then ready to go again.
Customers Opinion/Feedbacks
Jack S – The Jackmaster Masturbator looks as good as it feels, it's the best toy I have ever used. The J M is a revolutionary masturbator that comes in a discreet case. Great invention! Thanks!
Tony M – I was sceptic at first but I bought it and tried it, reached climax fast and after I finished, I unclipped the Jackmaster at the side for a very easy cleaning. You can even add water based lube for a mind blowing session!