Editor's Pick
Autoblow A.I.

Artificial Intelligence

100% Silicone Sleeves

Sleeves Can Be Changed

Great Beginner's Toy

Hand Free

Easy To Clean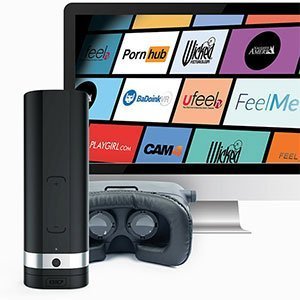 Kiiroo Onyx 2

Hands Free

USB Rechargeable

Sliding Scale Of Speed

Sleeves can be changed

Elegant And Discreet

Easy To Clean
Autoblow 2+ XT

100% Hands Free

No Batteries Needed

Industrial Strength Motor

Interchangeable Sleeves

Realistic Artificial Skin Material

Sleeves Are Easy To Clean
If you've used toys in the Fleshlight collection in the past, the Pink Lady Vibro Touch is one toy that is guaranteed to completely blow your mind – it is by far the most intense toy in all of the Fleshlight collection. This Fleshlight feels totally incredible – it has all of the features of the earlier toys in the line, but has the added intensity of three vibrating bullets.
If you're looking for a super intense orgasm that will totally blow your mind, the Pink Lady Vibro Touch Fleshlight is the one for you. Get a grip around this male masturbator, dive right into the more-than-willing entrance, and prepare to lose yourself. That's right – vibrators aren't just for girls. Previously thought to be just for women's sexual pleasure, vibrating can also add a whole lot of intense pleasure for males – it intensifies every single motion you make with your hand, and is sure to really intensify your finale. You won't find a whole lot of male masturbators on the market that do vibrate, which makes this one completely different from anything on the male market. Get ready for the vibrating action of this Fleshlight to totally rock your world.
Just like all the other Fleshlights, the Pink Lady Vibro Touch is tight, plush and soft, and when paired with warming lube, is warm and wet just like a real pussy. Couple this with the vibrating feature and this is a toy that is unlike any experience you've ever had before. Slide your cock deep into the tight, cushioned chamber of this toy, and you're in for a fun ride. It's been designed to massage and really concentrate on the most sensitive parts of your penis, particularly the most sensitive parts of your shaft, and the head while you jerk away. No matter your cock size, this toy has been made to really suction and tighten around your penis perfectly, so it really feels like a vagina.
This toy has been designed to help you keep a sturdy, steady grip around it, so you'll be able to keep steady and not have to worry about losing grip. It's also ideal to use in any situation, whether you're enjoying some one-on-on time, or during phone sex with your significant other.
Material:
Realism:
Easiness of cleaning:
Price:
The Pink Lady Vibro Touch Fleshlight is also easy to clean – simply add a little bit of soap to warm water, and flush out the toy. This helps to keep the toy clean, and helps keep you using it for a long period of time – this toy is slightly more expensive than a lot of other toys in the Fleshlight range, so you'll want to make sure that it's worth every single penny in the end. Cleaning and regularly maintaining the toy will help to ensure you're able to enjoy it for years and years to come.
The Pink Lady Vibro Touch Fleshlight is one vibrating male masturbator that will completely blow your mind.
Customers Opinion/Feedbacks
"I thought the Pink Lady Vibro Touch was totally amazing – I thought the vibration would be weird, but I loved how it made my orgasms a million times better." – Justin L., St. George, UT
"The Pink Lady was a little big for me, but the vibration made all the difference." – Joshua M., Lincoln, Nebraska
"This vibrator rules – it's totally different than anything I've ever used, and I loved the vibrations." – Matt J., Jacksonville, Florida