Editor's Pick
Autoblow A.I.

Artificial Intelligence

100% Silicone Sleeves

Sleeves Can Be Changed

Great Beginner's Toy

Hand Free

Easy To Clean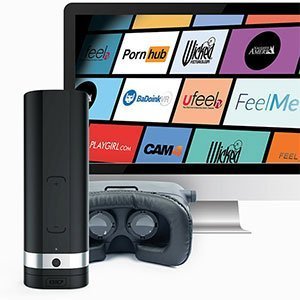 Kiiroo Onyx 2

Hands Free

USB Rechargeable

Sliding Scale Of Speed

Sleeves can be changed

Elegant And Discreet

Easy To Clean
Autoblow 2+ XT

100% Hands Free

No Batteries Needed

Industrial Strength Motor

Interchangeable Sleeves

Realistic Artificial Skin Material

Sleeves Are Easy To Clean
The name of this new masturbator may be a little crude, but there's no question you'll want to do exactly what it says on the box. This is a very generously sized toy, with over 20lbs of soft, yielding synthetic Fanta Flesh which feels incredibly authentic. When you slap the ass it really sounds and feels like you are slapping a real ass, and the butt and hips are done to the same scale as a real woman. But the best is yet to come.
Made by Pipedream Extreme, the manufacturer is well known for making a number of fun novelties, including the 'Beatin' Barack' wind-up toy, which enables you to sit back and watch the President 'stimulate his own package'.
This pussy and ass toy however is something entirely different, it's a serious, top of the line male masturbator posed in the jackhammer position. The toy comes with a DVD featuring hours of hot hardcore porn to put you in the mood, once you switch that on you get down to business. Applying the free lube you thrust inside her, and it's a plush ride, the pussy lips are full and authentic looking and the inner sleeve is a full 14 inches so there's plenty of room.
Material:
Realism:
Easiness of cleaning:
Price:
With the Fuck Me Silly masturbator you can also spread her cheeks and insert yourself into her tight asshole. Or you can take her doggy style simply by flipping the toy over so that her full ass cheeks are in front of you ready for you to pound away. The feeling is consistently warm and tight. The toy is also easy to clean because she rinses out easily with sex toy cleaner. It gives you the flexibility to come inside or pull out and spray all over her butt or her pussy as the mood takes. Reviews have been extremely positive for this new toy:
'The details are fantastic, everything from the shape to the design of the anus and pussy is as realistic as you could want it. Nothing beats real pussy, but this thing has me thinking about fucking it, instead of fucking my girlfriend on some days.'
'You can practice your sexual techniques on a life-like pussy and ass replica so you'll ultimately be a better lover for sexual partners. It also comes with a Zero Tolerance DVD with hours of hardcore footage, not just some DVD sampler like you get with most other toys on the market.'
Customers Opinion/Feedbacks
John – This is the most realistic toy I have ever used. No woman can replace this wonderful masturbator. It doesn't complain and you can always cum in it.
Alex – I was pretty sceptic about it at first, but after the first use I must admit that I'm in love with this realistic pussy and ass.