Editor's Pick
Autoblow A.I.

Artificial Intelligence

100% Silicone Sleeves

Sleeves Can Be Changed

Great Beginner's Toy

Hand Free

Easy To Clean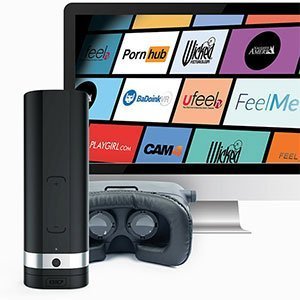 Kiiroo Onyx 2

Hands Free

USB Rechargeable

Sliding Scale Of Speed

Sleeves can be changed

Elegant And Discreet

Easy To Clean
Autoblow 2+ XT

100% Hands Free

No Batteries Needed

Industrial Strength Motor

Interchangeable Sleeves

Realistic Artificial Skin Material

Sleeves Are Easy To Clean
Carmen Luvana has been linked to production company Adam & Eve for most of her 6 year career in the porn business. Born on August 22nd 1981 in Brooklyn New York, Luvana entered the porn business in 1981. She has been involved in some of the biggest porn film productions of the last five years, including Pirates, a porn spoof of 'Pirates of the Caribbean' filmed in the same location as the blockbuster starring Johnny Depp. At the end of 2007 she announced that 2008 would be her last year in the porn industry and that by 2009 she would be gone. The only way we can console ourselves now is with the Adam & Eve Carmen Luvana Doggy Style Pussy & Ass fake vagina sex toy.
Made from Cyberskin, this vibrating pussy and ass is an exact replica of Luvana's famous privates captured in a provocative doggy style position. The anus and realistic vagina love tunnels grip tightly, while the Cyberskin material quickly warms to the touch and feels remarkably like human flesh as you pump away. The realistic pussy and ass are hand painted for extra authenticity.
Material:
Realism:
Easiness of cleaning:
Price:
Weighing in at 15lbs and measuring 8 x 11 inches, this is a realistic vagina toy you need to be alone to enjoy. It's not one you could quickly hide away from a roommate. It's large enough to place on a table and really have a good time with. It also comes complete with a love bullet that makes Luvana throb and pulse deliciously as you pump away.
Mind you, if you want to get with the real Luvana all it takes is a bit of confidence. Luvana has stated that she doesn't go for good looking guys, she prefers guys with confidence and humor, and if she is sufficiently impressed she has been known to go the whole way even on the first date. So once you've tried Carmen Luvana's Pussy & Ass sex toy, you could get lucky and find the real Luvana. Helpful clue, she divides her time between Florida and Los Angeles.
Customers Opinion/Feedbacks
Antonio – This toy is a great recreation of Carmen's pussy and tempting ass. I used it just after I received it and I must say it feels just like Carmen's seductive Spanish snatch. You can go crazy for this lovely piece.
Jose – I recently bought this machine after my wife talked me into it because I'm mostly away. I must say it does feel like the real thing it's warmed up.